How Can We Serve You, Better?
Since their inception everything they've done has been driven by the answer to the simple question, "How can we serve you?"  The answers to that question have set Allentown's course over the past 55 years, and drove them to innovate, to care, to partner and to provide the life science community with solutions to further discovery and improve lives.
Now, in their next phase They have a new question that will guide them, "How can we serve you, better?"
It is their goal to responsibly grow our presence in the laboratory animal science and biomedical research communities and provide you with even better services, better solutions, better options, better products and all delivered the trusted Allentown way.  You and your research will benefit from the peace of mind working with Allentown brings with an expanded offering of innovative, reliable, affordable, and best-in-class solutions for your research.
BetterBuilt, an Allentown Company
The similarities between BetterBuilt and Allentown are almost too lengthy to list, and a better partnership would be difficult to find.  Two companies known for their integrity.  Two companies successful for decades and known as providers of innovative solutions that last and are backed by renowned customer service. Two companies that chose to serve the life science industry knowing that there are few causes as important as scientific discovery and improving lives.
In a world with many uncertainties Allentown's acquisition of BetterBuilt brings a renewed sense of stability and trust. You can depend upon this solid foundation of discovery solutions derived from a customer-first approach and commitment to unmatched quality that has stood the test of time, and now will now only get stronger.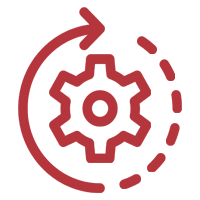 BetterBuilt will operate the same way that enabled us to provide the life science community with the required solutions and support. Same leadership, products, sales and service professionals, engineering, design… all the things that have made BetterBuilt world class will remain the same. You may see the addition of the Allentown brand to products and services, but what you have come to love about working with BetterBuilt will not change, and over time will become even better.
For those who may not know Allentown, their story begins in 1968 when founder, Michael A. Coiro Sr. opened a small factory in Allentown, New Jersey during a boom period for science industries. Originally trained in the artful technology of stainless steel, he soon experienced first-hand how vital advances in biomedicine can be, thanks to the innovative life-saving care that his wife – and business partner – Dorothy received at the Hospital of the University of Pennsylvania. Michael exited that experience with a keen awareness of what was at stake, and a passionate inspiration to contribute to the scientific mission. He poured care, dedication and compassion into an operation which evolved into a state-of-the-art world-class organization, and earned the trust and respect of renowned biomedical research facilities around the globe.  Click here for the rest of Allentown's Story.