Meeting sanitation requirements is always a top priority for healthcare, laboratory, and life science facilities. To ensure items are thoroughly clean and sanitized, central sterile processing, laboratories, and cage wash facilities require specialized washing equipment. These particular washers ensure sanitation requirements are met by using chemical detergents and temperature-controlled solution spray systems with the appropriate coverage.
When it comes to choosing a washer for life science or healthcare there are numerous factors to consider. These include overall cost, size requirements, and add-on features. However, an important element to consider is the washer's spray system design. This is what ensures all elements are thoroughly cleaned and debris or residue is completely washed away.
For the purpose of this article, we shall review three types of spray systems typically found in cart and utensil washers and cage and rack washers. Here's what you need to know to find the exact system that meets your facility's needs.
Rotary Spray Arms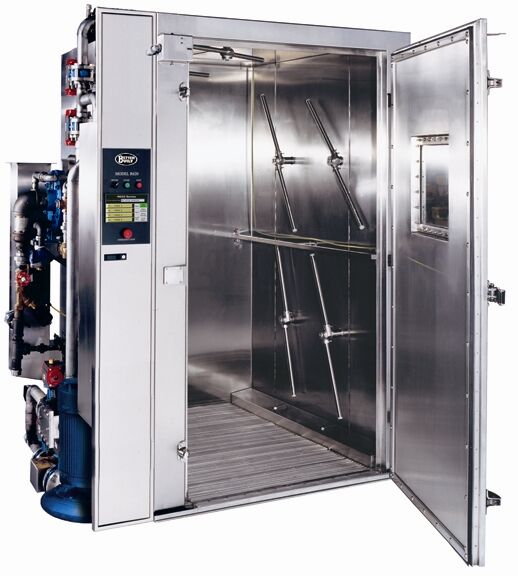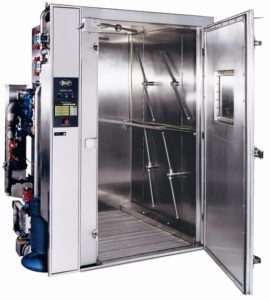 A rotary spray arm design is perhaps one of the most common for traditional washing appliances, as it is what most dishwashing systems use. A spraying manifold is attached to the bottom or top of the washer with several spray openings. During the washing cycle, the flow of the water causes the arm to rotate in a full circle, distributing the spray throughout the washer.
Facilities looking for a versatile, reliable yet simple cleaning system would benefit from a rotary arm spray. This is self-powered, so no mechanical or pneumatic systems are required. This also ensures the best washing exposure time and impingement force, as the spray is delivered from the side, top and bottom of the chamber.
This type of washing technology does not accommodate for dedicated washing and rinsing manifolds, meaning that the washer thoroughly flushes with fresh water in between cycle stages to prevent cross-contamination. The average cycle time ranges from 15 to 35 minutes, depending on features and sanitation requirements.
Traveling Manifold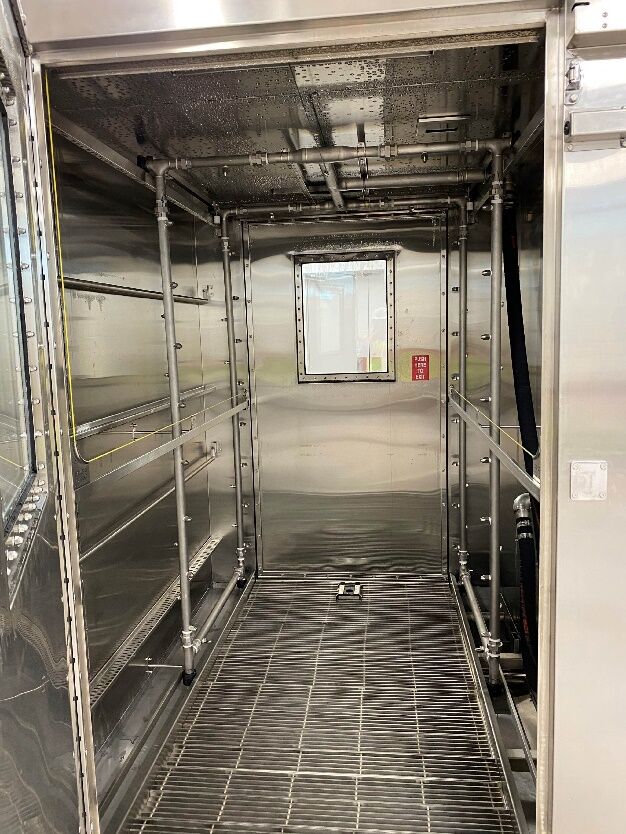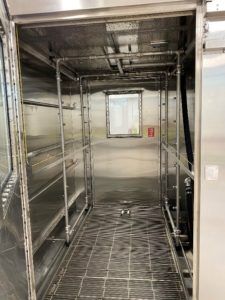 A traveling manifold moves inside of the washing chamber on a rail system, similar to how carwash jets will move along the length of a vehicle. The jets on the spray manifold travel back and forth along a top mounted rail via cables connected to a pneumatic cylinder.
This type of spray system is capable of recirculated wash and rinse cycle stages as well as non-recirculated rinse when properly equipped. This direct rinse option can reduce cycle time and water consumption.
Due to the linear track system of traveling manifolds, jet exposure time is diminished compared to other spraying technologies. The washing system is also limited in wash pattern capabilities and lower impingement force.
Oscillating Spray Manifold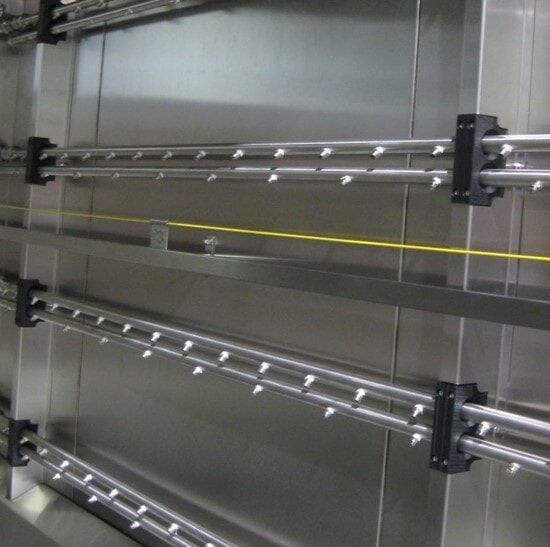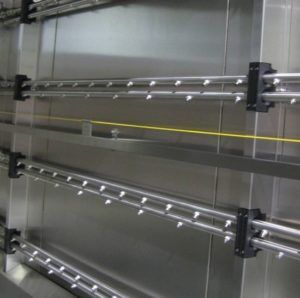 Oscillating spray manifolds are mounted horizontally and rotate with a 110° oscillation pattern. This is similar to how yard sprinklers operate – the jets move back and forth for a wider spray pattern.
Oscillating spray manifolds can be recirculated or non-recirculated. Can have dedicated wash and rinse spray manifolds which can be fed via direct rinse or through storage tank. This spray system delivers wash and rinse solution from the sides of the chamber, top and bottom spray coverage is non-direct.
If equipped with the correct features, oscillating spray jet manifold washers can have shorter cleaning cycle times than other systems, and offer reduced utilities consumption.
Due to the spray jets only on the sides, there are limitations with coverage and lower impingement forces. With added jets and spray manifolds, the upfront cost is typically higher than other spraying technologies.
In Conclusion
Washer technology has been around for longer than you may realize. Laboratory and life science washing solutions at BetterBuilt debuted all the way back in the 1950s when there were only a handful of companies offering this type of equipment.
During this time, BetterBuilt was known for its overlapping rotary spray arm design. And today, we are the only company on the market that offers all three washing technology spray systems. As the industry leader in washer technology, you can trust that our systems will meet – and even exceed – your expectations.
Our goal is to help life science, healthcare, and laboratories find the necessary washing and handling solutions for their specific facility. Our team can provide further information about these spray system options and guide you towards the solution that best meets your needs.
To learn more, please contact BetterBuilt today.