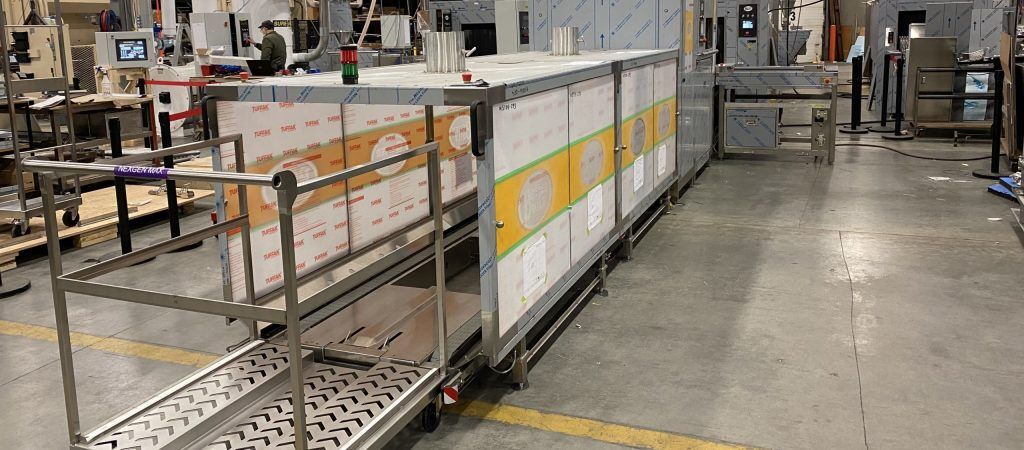 For the past eight months, the BetterBuilt team has been working on a customized semi-automated system for a client, to replace a robotics system in their active facility.
Anyone who works in a lab animal research facility will tell you that the worst part of the job is cleaning the soiled cages. BetterBuilt's new, custom-designed, automated system, takes the worst part of the job away by automating the flipping, dumping and scraping of the cages. All of this is achieved in a very compact footprint.
Our client just didn't have the capacity or throughput they needed," says Harry Lim, President at BetterBuilt. "With the new modular system we've carefully developed for them, they'll now be able to get the throughput they need because everything is integrated."
With the automation on the soiled side, the partially automated system is a combination of seven modular products, including:
Soiled Eight Queue Station
ActivADS – Automated Dump Station
ActivSDS – Soiled Diverter Station
BetterBuilt T236 Tunnel Washer
BetterBuilt D236 Bedding Dispenser
Sure-Vac S260 Soiled Vacuum Removal System
Sure-Vac S270 Clean Vacuum Supply System
This system is able to operate both manually and automatically, giving the client more control. The mixed operation will be critical for the installation process, which will be done over a few phases to ensure equipment is still operational in the active facility.
"Throughout each stage, we're making sure that we're keeping everything operational, minimizing their downtime," says Lim.
Lim adds, "this system is a great example of our modular approach. You can piece it together, adjust the features and options. By being modular, you can add or subtract features to customize to what the client wants and meets their criteria and budget."
BetterBuilt specializes in automation. Our unique suite of automation products are seamlessly integrated to help you work smarter not harder. It's one of the main reasons so many facilities choose BetterBuilt. For more information about the full automation suite, visit here.
Interested in learning more? Speak to one of our experts below.