Cage washing has traditionally been one of the most cumbersome aspects of lab animal testing. Thankfully, automation adoption has done wonders in recent years to improve the efficiency of testing facilities.
However, this efficiency depends heavily on the material handling carts responsible for transporting cages into the automated washing systems. For this reason, not just any material handling solutions will do.
Lab animal testing facilities need carts designed to be seamlessly integrated with automated solutions and ensure cage bottoms can be properly processed. In this post, we want to discuss how material handling carts provide numerous benefits for lab animal research facilities and automated washing systems. Let's discuss three of the big ones.
1. Improved Efficiency And Ergonomics
The design of the material handling carts must be specifically optimized for automated washing stations. This ensures ergonomic benefits for easier transport directly into and out of stations – which in turn, improves efficiency.
The goal for today's lab animal science facilities is to consistently boost productivity and reduce waste. Generally, labs are designed with specific layouts to support an efficient workflow. There are also specific codes and requirements laboratories must meet to ensure equipment is spaced correctly and walkways are wide enough for safe passage.
Material handling carts must be able to integrate with automated solutions for faster transportation and sanitization. Specialized carts can help to transport equipment and materials from point A to point B in a faster manner by reducing manual handling.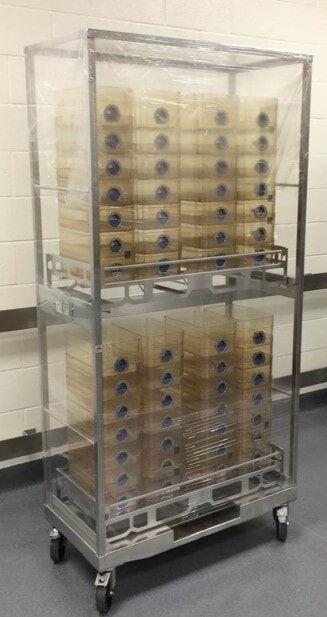 For example, the DL Dual Level Transport Cart allows users to stack two levels on top of each other to double the capacity load. This cart is designed for transporting animal lab research equipment, which can stack 4 standard mice cages or 2 rat cages per row. It also comes with an optional cart cover to protect the materials during transport.
This cart then is directly rolled into automated dump stations, which will handle the cleaning on its own. This reduces handling time and optimizes the process by keeping the cages on the same cart the entire time.
Custom material handling carts can also improve ergonomics by meeting mobility requirements. Solutions such as hydraulic lifts, clamps, conveyors, and rollers can be added for easier loading and unloading of heavy materials.
2. Maximizes Washing Operations
Material transport carts can be used for more than just moving equipment from one side of the lab to the other. Some carts are built with waterproof materials – such as stainless steel – so they can be rolled directly into lab animal research washing systems.
Cleanliness and sterilization of animal lab research equipment are essential. Many lab technicians spend hours dumping soiled bedding, stacking cages, loading the equipment into washers, removing them, and returning to their storage space. Much of this time can be cut down with material transport carts – as users simply need to stack items onto the rack, roll into the washer, and you're set.
Material handling carts can be custom designed to fit specific pieces of automated equipment or to fit situations both during transportation and washing.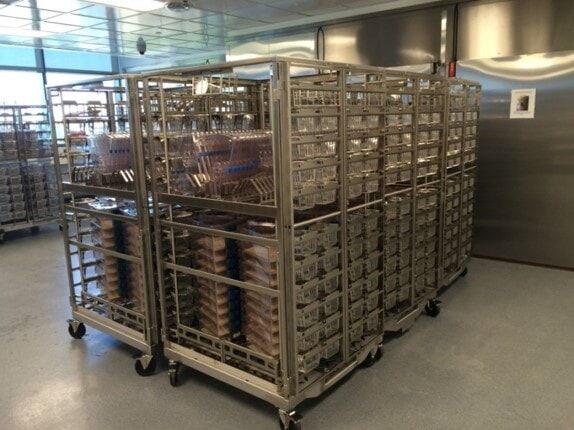 The B236 Material Bulk Truck is designed to optimize loading capacity with interchangeable rows. This means that one cart can hold 4 mice cages or 2 rat cages per row and up to 80 cage filter tops or wire feeder screens. This cart integrates with the Activ IAS/ADS and T236 Tunnel Washer so it can be rolled directly into the cleaning station without unloading.
3. Easily Integrates with Tech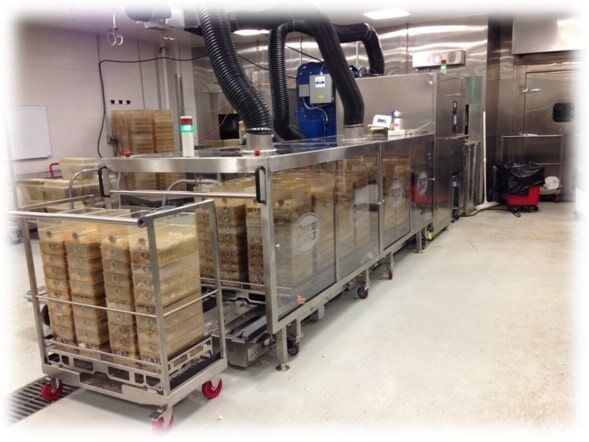 A laboratory material handling cart may not seem like the most mechanically advanced piece of equipment, but many models can be easily upgraded with a bit of modern technology. Transport carts can be integrated with various solutions and emerging lab tech.
For instance, the B236 cart can be used to replace a conventional material handling cart with a one-touch system. Dirty cages are transferred onto the cart as one piece with bottoms, lids, and wire bar feeders in place. The cart is then rolled into the animal lab research washing systems where the automated system removes these parts.
Once the washing cycle is complete, the automated system will place cleaned cage bottoms along with clean bedding back into the B236 cart. The cart can then be rolled into the animal holding room.
This can help to substantially improve efficiency by allowing technicians to remain in their stations. Automated transport carts support a more efficient and cleaner process for animal research lab equipment and allow technicians to focus on the work-at-hand, rather than spending time cleaning and moving dirty cages.
BetterBuilt offers a line of Activ products that support automation for better operational efficiency, energy conservation, and lab safety. These are designed to integrate with material handling carts and other laboratory equipment solutions – such as diverters, conveyers, dump stations, and data collection and control solutions.
Conclusion
Material handling carts are often overlooked pieces of equipment – but they play an essential role in ergonomics and efficiency. The right type of material handling cart can cut downtime on transportation and support the quality of both the equipment and materials. Many transport equipment carts can also be customized with automated solutions or specialized add-ons for material protection.
At BetterBuilt, we strive to help animal lab research facilities improve their outcomes with the most innovative solutions available. Our team of experts will help you find exactly what you need.
If you require specialized equipment, such as washers, dryers, or sterilization systems, give us a call. Many of our solutions can be customized to meet specific standards and situations.