Life sciences rely on efficient systems in all aspects of operations. Most facilities are constantly running sanitization processes to clean cages, remove soiled bedding, and refill the containers. This can be a time-consuming process, but automated processes like bedding dispensing solutions can help.
Replacing the bedding materials used in life science enclosures is a key part of the sanitary practice. But there are additional benefits to regularly replacing the bedding for lab animals.
Utilizing bedding dispensing solutions can make this multi-step process just a bit easier and far more efficient. There are several models of bedding dispensers we offer here at BetterBuilt that are designed specifically for life science operations; here's what you need to know about each one:
1. Automatic "Rainfall" Bedding Dispenser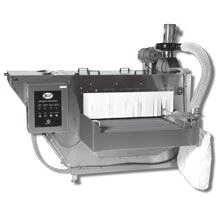 The D200 Series Automatic Bedding Dispenser can be placed inline directly after the tunnel washer. The recently sanitized cage enters the dispenser and is flipped upright ready to receive bedding.
The bedding is dispensed in a "rainfall" style from above, so the amount is easily controlled and evenly spread out. Any spilled bedding falls beneath and transported into the storage hopper of the bedding dispenser so it can be reused. The filled cages are then rolled down a powered PVC-coated conveyer and unloaded.
One of the greatest benefits of this bedding dispenser is its seamless integration with other automated solutions. This D200 solution is compatible with many other BetterBuilt solutions, including our:
Using this bedding dispensing solution along with other automated tools can improve efficiency significantly. It simultaneously reduces resource consumption and also improves safety, thanks to its efficient design.
In a recent study, scientists have concluded that automated solutions in life science facilities showcase distinct operational and safety advantages over manual practices. Opting for automated bedding dispenser solutions is a great starting point for a more automated lab.
2. Inline Chute Bedding Dispenser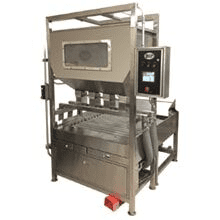 If your laboratory uses cages that range in size, types, and bedding volume requirements, the C200 Series Inline Chute Bedding Dispenser is the ideal option. This bedding dispenser can also be connected directly to a tunnel washer and it uses adjustable gates to determine the exact amount required.
This machine can also be used to distribute different types of bedding, such as corn cob, wood chips, and other materials. The Inline Chute uses mechanisms like sweepers, agitators, and vibration devices to eliminate bedding bridging issues.
Again, this bedding dispenser is designed for easy integration with other automated systems. You can use the Inline Chute along with BetterBuilt's Sure-Flo and Sure-Vac solutions for a complete bedding handling solution.
One of the key benefits of the Inline Chute dispenser is its high-speed pneumatic valves and powered roller conveyor. This helps to optimize the machine's performance, while also reducing noise and resource consumption.
3. Stand-alone Chute Bedding Dispenser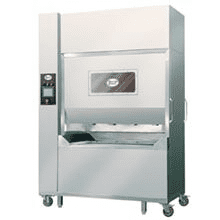 The final type of bedding dispenser solution we offer is our C200 Series Stand-alone Chute Bedding Dispenser. While this bedding dispenser is similar to the inline version, it's designed as a stand-alone system where cages can be dispensed manually.
The Chute Bedding Dispenser uses pneumatic valves and sensors to ensure that the correct volume of bedding is allotted. This solution can be used for multiple types of bedding, as it uses an actuated flap gate to ensure consistent results.
This bedding dispensing solution uses an internal vacuum system to transport the bedding material from the lower filling hopper to the top-mounted dispensing hopper. It also features a front viewing window for observation and easy maintenance access.
One unique feature of the Chute Bedding dispenser is that the pneumatic valves can be timed or set individually. Let's say that you need to quickly fill a cage that is a different size from the rest of the batch. The operator can quickly adjust the bedding amount needed manually, then revert back to the automated sequence.
Want to Learn More About Bedding Dispensing Solutions?
Bedding dispensing solutions can make an impactful difference in the overall operations of life science facilities. These systems are versatile and efficient, plus they help to improve sanitation standards over manual bedding dispensing.
If you are interested in learning more about any of BetterBuilt's solutions, please contact us online. One of our team members will be in touch to provide more information about any of our products for life science facilities.