Animal research facilities must adhere to very strict sanitation standards to ensure safety and quality control. For example, animal research laboratories must complete a 28-point inspection process for all cage-washing practices, which includes providing adequate PPE (personal protective equipment) and sanitation techniques. But without vacuum systems to assist, even a simple step like cleaning and re-bedding cages can be quite time-consuming.
Further, sanitation processes often require excessive resources, including energy consumption, water usage, manpower, and the cost of cleaning supplies and equipment. Animal research facilities consume up to 10 times more energy than traditional working offices of the same size. Manual cleaning can also create environmental and health hazards for employees, as soiled bedding is considered biohazardous.
Vacuum systems for soiled bedding removal, clean bedding delivery, and housekeeping can help to improve overall lab operations immensely. Not only do vacuum systems partially automate the bedding handling process, but they can also reduce resource consumption and cut waste.
Here are three of the main types of vacuum systems offered by BetterBuilt that can help to improve animal research lab operations.
1. Soiled Bedding Removal Vacuum Systems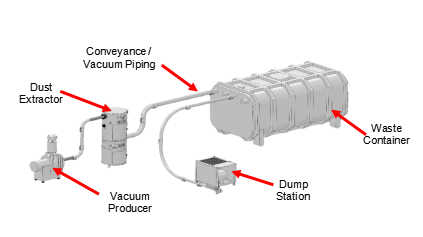 The first step in the cage cleaning process is removing soiled bedding and safely disposing of the biohazardous material. This procedure opens the door for many complications, such as unsanitary practices and potential contamination. The soiled bedding must be carefully dispensed and stored in specific waste containers.
Utilizing a vacuum system such as the S260 Sure-Vac Soiled Bedding Removal System ensures a faster and more sanitary process. This tubular conveying system transports soiled material directly from a waste dump station to a waste storage container. The entire process is conducted within a closed system that collects debris, reducing allergen exposure from soiled bedding.
Overall, this vacuum solution helps to reduce the time and manpower required for bedding disposal. Further, our Sure-Vac vacuum uses an energy-saving motor that uses significantly fewer resources compared to other vacuum systems. However, this energy-efficient motor does not compromise on efficiency. This system can support continuous conveying at a minimum rate of 330 lbs of soiled bedding per hour.
2. Clean Bedding Delivery Vacuum Systems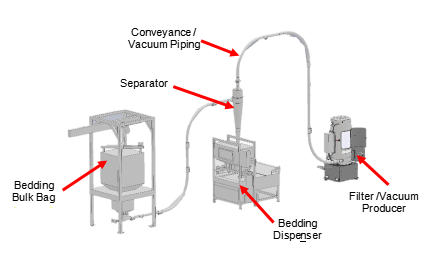 Once the soiled bedding is removed and the cage has been thoroughly sanitized, the next step is to refill the cages with new bedding. Manual handling of clean bedding delivery requires heavy lifting and can be tedious cumbersome work.
The S270 Sure-Vac Clean Bedding Delivery system supports a more efficient workflow that quickly refills cages automatically. The clean bedding delivery system transports fresh bedding through conveyance piping to a bedding dispenser. The Sure-Vac bedding delivery system is typically used in conjunction with a bulk bag unloader, so no manual filling of cages is required.
Another aspect that makes the Sure-Vac unique is the VFD Vacuum Producer utilized within the system. This includes a silencer and insulation to reduce noise as well as energy consumption.
3. Housekeeping Vacuum Systems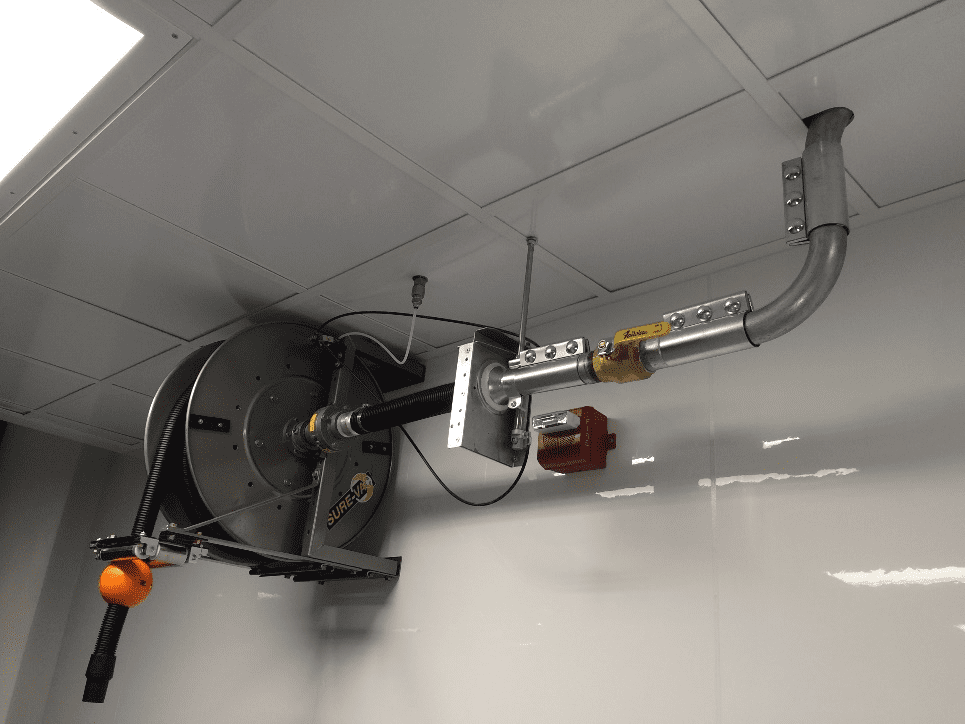 Most animal research facilities place bedding products, feed pellets and enrichment into their vivarium cages. During cage change over, soiled bedding removal, and clean bedding delivery, bedding may be spilled and ducts can be created.
Housekeeping vacuum systems, such as the S250 Sure-Vac, can be installed for easy, quick cleanup. This utilizes interchangeable vacuum heads and cleaning tools to collect debris and transport it to a waste container.
The conveyance piping design allows for easy directional change and flexibility with the housekeeping system. It can also be configured with up to 8 operators for larger facilities connected to a singular clean-out port. This housekeeping vacuum solution may be installed throughout the lab, such as in animal housing rooms or cage washrooms. This creates an incredibly convenient and sanitary system and supports a cleaner work environment.
Over to You
Vacuum systems are an incredibly convenient and effective way to improve overall lab operations within animal research facilities. These solutions help to streamline the tiresome process of bedding removal and delivery while simultaneously reducing waste and energy resources.
One of the benefits of using BetterBuilt's Sure-Vac systems is our modular design. All of our vacuum systems can be integrated for a more seamless flow that works in tandem for an efficient process.
If you have further questions regarding any of our life science vacuum system solutions, be sure to reach out to our team. BetterBuilt offers truly unique solutions designed for research facilities that you won't find with any other provider. We're more than happy to answer any questions you have and suggest solutions that will meet your animal research facility's unique operational requirements.