Life science and animal research facilities must adhere to strict protocols regarding the sanitation quality of their environment – particularly with the caging and bedding systems used for vivarium study. This means that bedding must be frequently disposed of and replaced to avoid bacterial growth and contamination. To say bedding handling is unenjoyable is an understatement. Thankfully, bedding conveying systems can make this process far easier.
The National Research Council of the National Academies has laid out guidelines for the types, materials, and amounts used in animal research laboratories. Bedding is not only used to create a more comfortable housing environment – it can also reduce ammonia and bacterial growth. Bedding types and frequency of replacement can also have a significant effect on animal wellbeing and behavior.
But consistently removing soiled bedding and replacing the cages is time-consuming, particularly for larger operations. Bedding conveying systems can help to support the sanitization process and extend the usability of vivarium equipment.
Now, it should be noted the difference between bedding conveying and handling solutions. While they share similarities, a conveying system is designed to transport material through an infeed system. Bedding handling is more of an umbrella term covering the systems used by laboratories to dispose and dispense bedding materials.
Bedding conveying tools can significantly improve the removal, replacement, and sanitation of life science operations. That said, here are three of the premier bedding conveying systems offered by BetterBuilt:
1. Soiled Bedding Removal System
Removing soiled bedding safely and efficiently is often a top priority in animal research facilities. To protect the people working in the lab from contact with disease and bacteria, there should be very little human contact with the material.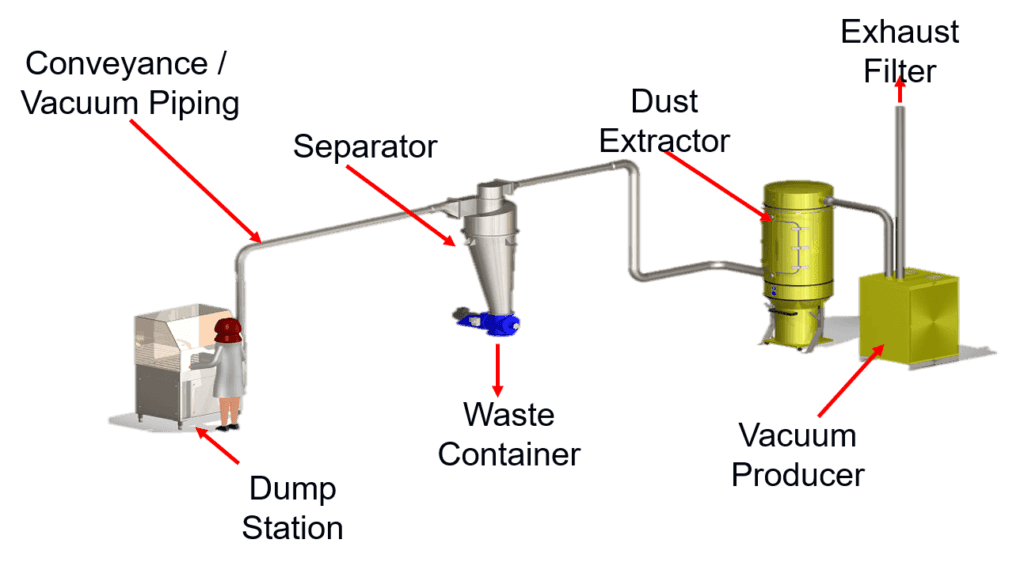 Soiled bedding removal systems can assist in this process by creating a vacuum system that conveys soiled bedding into a sealed container. The S260 Sure-Vac Soiled Bedding Removal System contains several components, including a:
Bedding dump station
Conveyance piping
Primary separator
Vacuum piping
Filter separator
Vacuum
Exhaust filter
Soiled bedding is physically dispensed into the bedding dump station, where pneumatic pressure is used to convey it through the system into a sealed waste container. Any remaining dust and airborne particles are also separated through an exhaust filter.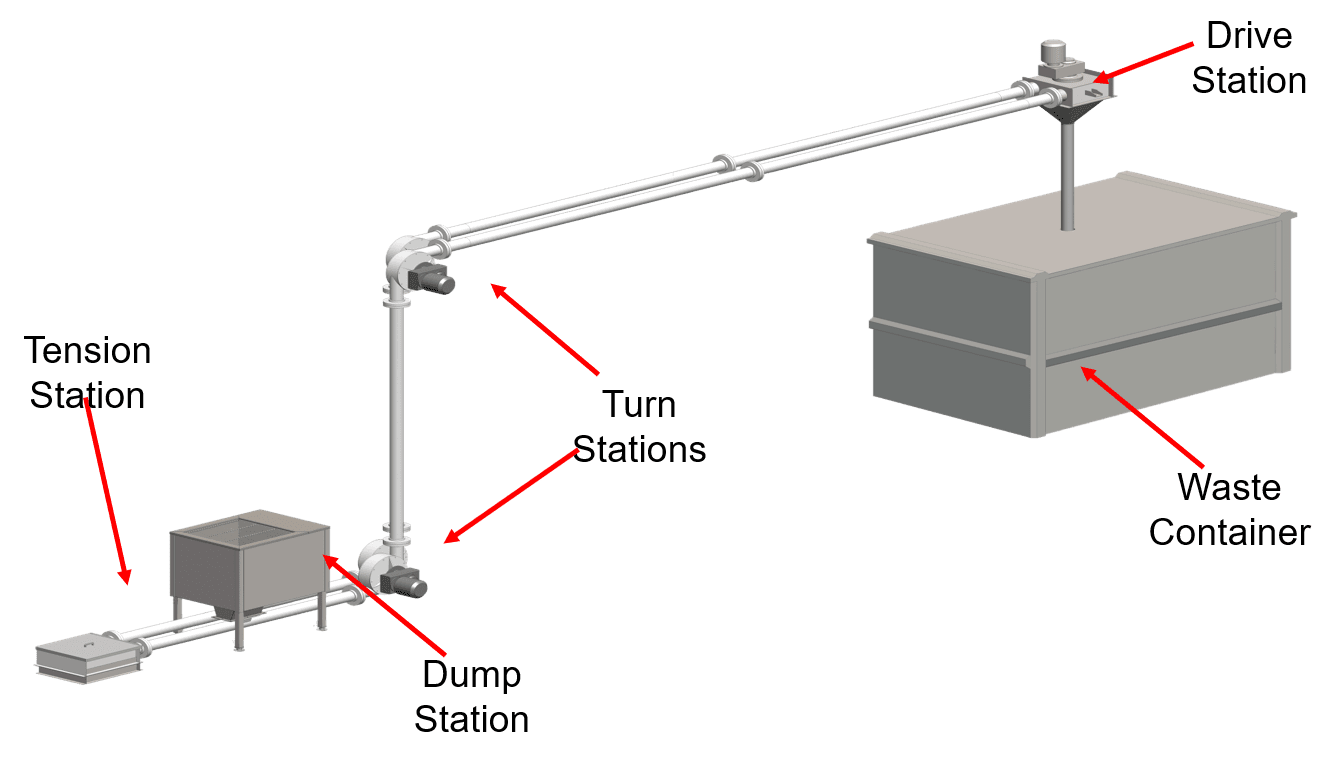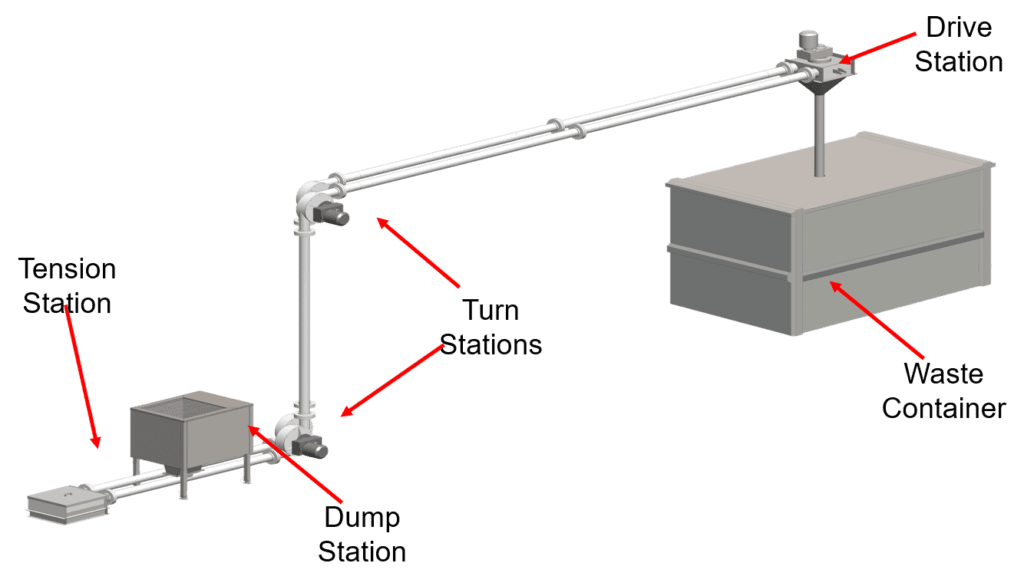 The S200 Sure-Flo Soiled Bedding Removal System is another option. This solution utilizes tubular drag-chain systems to move soiled bedding into a disposal container. Rather than relying on a vacuum, this system uses a continuous chain link powered by a motor. This uses far less energy and can change direction as needed.
2. Clean Bedding Delivery
Once the soiled bedding is removed, new bedding must be dispensed as quickly as possible so the animals can be returned to their cages. Physically placing the bedding is an option, but there are several notable downsides. First, the material can produce a lot of dust, creating a less sterile environment. Second, bedding containers can be quite heavy and create health hazards in the workplace.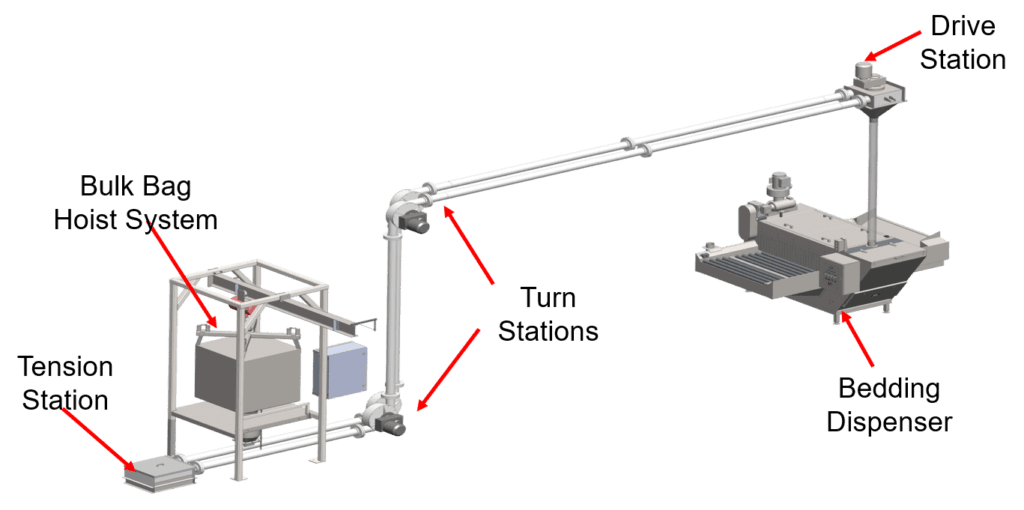 The S210 Sure-Flo Clean Bedding Delivery System can help to automate the process through a tubular drag-chain conveyor system. Rounded tubes are connected to each case to dispense new bedding as needed. Individual or bulk bags can be inserted through inlet ports, depending on size requirements.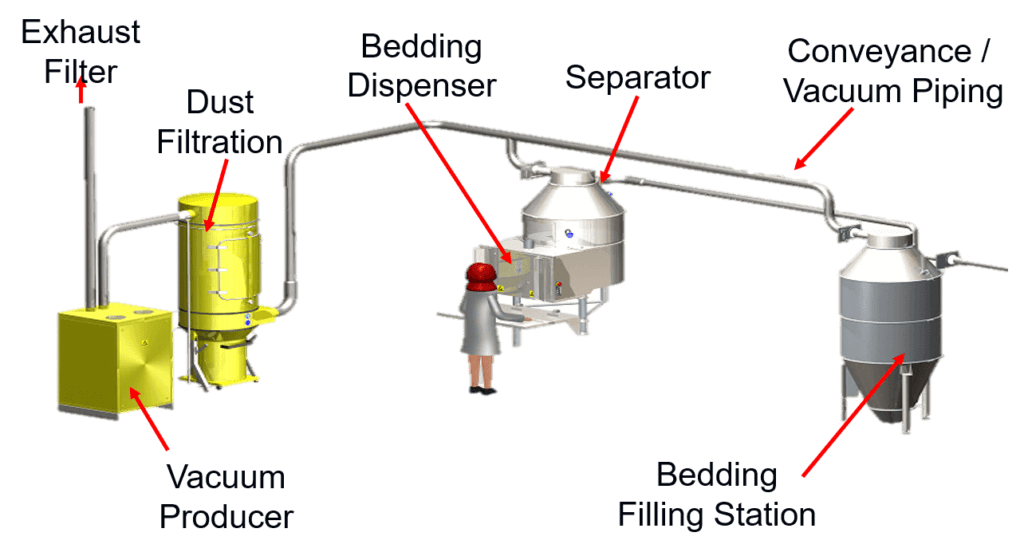 The S270 Sure-Vac Clean Bedding Delivery System uses a vacuum rather than a conveyer to dispense fresh bedding. This system is similar to the pneumatic bedding removal solution, as a vacuum propels the bedding through a separator and is either dispensed or filtered through the exhaust system.
3. Housekeeping System
The process of bedding removal and replacement can result in a lot of dust, as well as dirt and even spilled materials in the animal holding rooms. This creates a dangerous and non-sterile environment and requires even more cleaning and manual labor.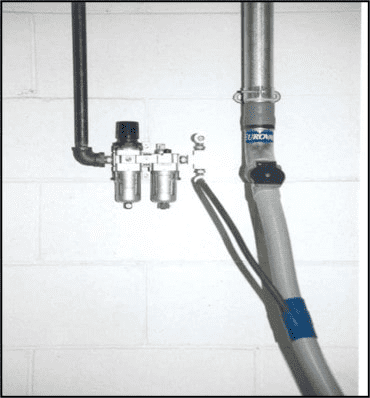 The S250 Sure-Vac Housekeeping System designed by BetterBuilt can help to alleviate this issue significantly. This utilizes a central vacuum system that extracts these materials from the air and surfaces for quick cleanups and easy, sanitary disposal.
The housekeeping solution features multiple ports so up to 8 vacuum systems can be operated simultaneously. There are also a variety of cleaning tools that can be attached to the vacuum tube to reach smaller or larger surface areas.
Installing a Sure-Vac Housekeeping System should be considered as an extended part of any bedding conveying solution. This will help to streamline the sanitization process and eliminate the need to manually sweep or clean up debris from the bedding.
Looking for a Bedding Removal System?
Bedding conveying tools are essential for creating a more efficient workplace for life sciences and animal research facilities. These automated systems help to keep vivarium equipment as clean as possible while reducing the time it takes to safely remove and replace soiled bedding.
One of the greatest benefits of choosing bedding conveying systems from BetterBuilt is the ability to design a modular setup. All of the equipment offered by our company can be utilized individually, but they can also be installed to create an integrated, cohesive system.
If your animal research facility could benefit from an automated system for bedding conveying, please contact BetterBuilt. Our team of experts has been developing unique solutions for life science facilities for over 70 years. We can help you find the exact tools to handle bedding disposal and dispensing.